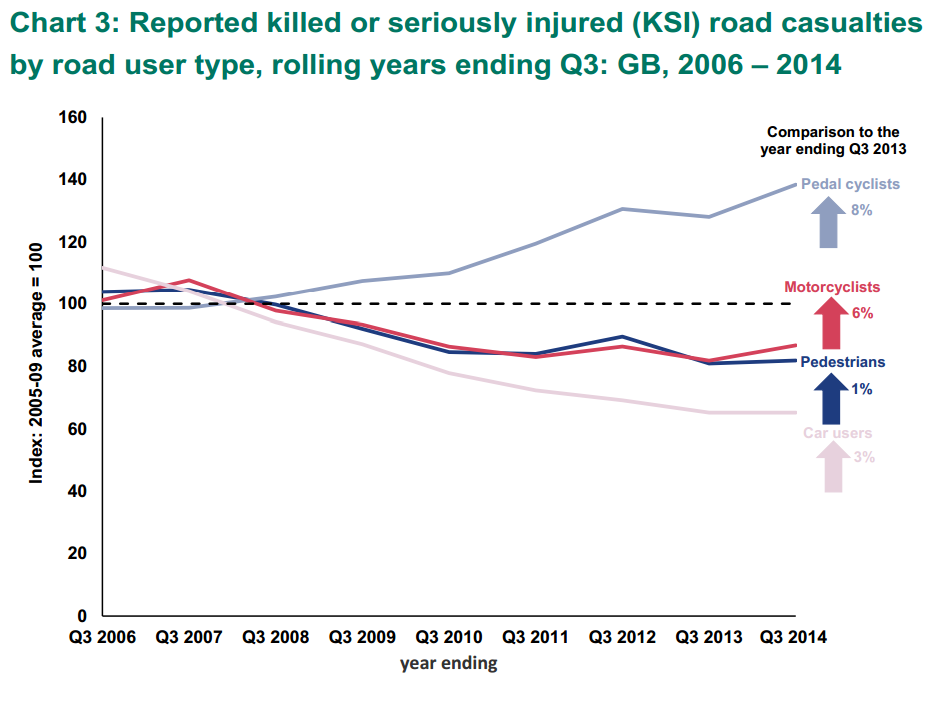 Latest Road Casualty Figures Continue to Disappoint
February 5, 2015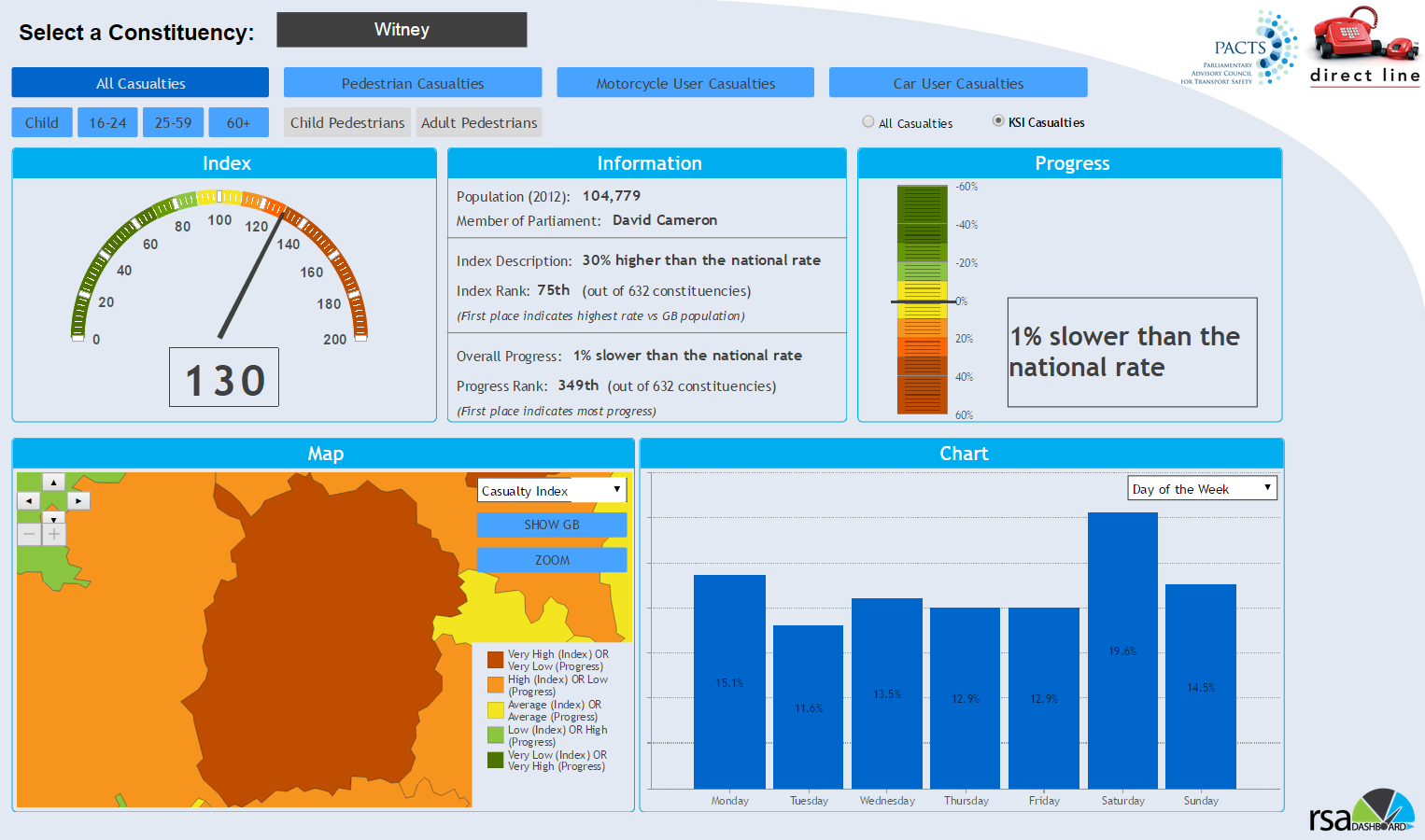 Constituency Road Safety Dashboard Launched
March 26, 2015
Spring Conference Roundup
On tour – The Spring Conference season started with a bang!
The last month has been a busy one for me, attending a variety of conferences about behaviour change in public health; pedestrian safety; and drink, drug and mobile phone use while driving. Behavioural science was definitely at the core of all three conferences, encompassing academic theory, current interventions and new innovations.
And I am writing this on the way home from our northern RSA Conference: ThinkAgility, where we also presented sessions on behaviour change; evaluation; new ways to present data; and how not to do analysis (a full summary of the event is to follow after our Southern event on 1st April – watch this space!) so these all seem to be common themes in the road safety sector at the moment.
Harnessing Digital Technology for Health Behaviour Change, University College London
Dan and I spent two days at the end of February at University College London, learning about behaviour change in public health. With over 300 delegates, this first annual conference was exceptionally well attended, with delegates visiting from around the world. Whilst we were definitely in the minority as road safety professionals, there was lots for us to learn and many of the principles and theories used elsewhere in public health are transferable to the road safety sphere.
There were several main themes we took away from the two days – that behaviour change models such as the Behaviour Change Wheel are relevant to policy makers and practitioners trying to change a range of behaviours from encouraging smoking cessation to managing diabetes through to avoiding drink-driving. What was also evident was that practitioners across the disciplines face the same challenges when applying theories to practice – a common theme was the presentation of results of randomised controlled trials of digital solutions using behaviour change theories and a frequently asked question was about how to translate the evidence and evaluation into practice in the real world.
It was also evident that there are an abundance of apps and websites aimed at changing various health behaviours – as often happens in the road safety world, individual areas were often providing similar solutions and re-inventing the wheel and in many cases, these solutions were based on good ideas rather than sound evidence bases.
The conference reminded me of the need to ensure that evidence and sound theories are at the core of our interventions and that sharing best practice and collaborating on projects is essential. Road safety professionals – be it academics/analysts or RSOs/Marketing Officers need to work together to ensure that their hard work at both ends of the spectrum is put to good use and that it doesn't end up with the production of hundreds of spreadsheets which no-one uses the results of or that interventions are ineffective and undeliverable because they are based on hunches or personal preferences.
Behavioural science in the health sector is leading the way in bridging this gap but I hope we can learn lessons from the sector and follow in their footsteps.
2015 RoSPA Road Safety Conference
Early March saw me head to Birmingham with Richard for the annual
RoSPA
Conference, this year with the theme of pedestrian safety. The day included a range of presentations on theories and practice, including Richard and me presenting the concept of the 'Prototype Willingness Model' as an appropriate behaviour change model for communicating with adolescent pedestrians. As with the conference at UCL, it was interesting to see some duplication across the country, with many areas providing very similar child pedestrian training interventions– with budget restrictions, fewer authorities can provide full training schemes such as Kerbcraft so many are opting for parent-led solutions in the form of workbooks and/or DVDs (like our
Safer Steps
package). There were a few moments of 'great minds think alike' with some of the offerings but it also showed that there were perhaps some missed opportunities for joint working and that areas could be benefiting from economies of scale if authorities joined together to design, procure and deliver training packages. As with the UCL conference, it was important that evaluation was on the agenda, both with RoSPA's Christina Brown discussing the need to evaluate ETP schemes and also with some of the practitioners presenting the feedback they have received from children and parents. This included Cheryl Evans from West Berkshire Council sharing preliminary evaluation results of the Safer Steps scheme. It was fitting that a conference about pedestrians saw the
UK launch
of UN Global Road Safety Week by RSGB Chair, Honor Byford, including the unveiling of resources for 
#SavesKidsLives
which we have worked closely with RSGB on. And we all got to participate in the launch by being part of a 'safie'!!
---
Estimated number of deaths caused by drug driving every year in Great Britain
My last stop on the tour before our own conferences was London on 18th March. This event involved a really packed (no pun intended regarding PACTS!) agenda covering the new drug-driving legislation; looking at new ways to tackle drink driving; understanding driver distraction and finishing up with an update on road safety around the UK.
All the sessions combined theory and practice, starting with a plea from Mike Holliday-Williams of Direct Line for Graduated Driving Licensing (GDL) for novice drivers because "telematics and social media will not work on their own." It seemed appropriate that this was followed by Jessica Matthew from the DfT who talked through the introduction of the new drug-driving legislation; how police forces are looking to enforce the new law; the Think! campaign accompanying the legislation; and governmental plans for the future, including an overhaul of the CBT for motorcyclists. Going back to the implementation of the drug-drive law, it was surprising to hear that in the first 2 weeks of the new legislation, one police force had had 26 prosecutions – the extent of the drug driving problem is probably much larger than we'd expect (and this was echoed in the statement that it is estimated that there are 200 deaths from drug driving every year in Great Britain).
Introduction of the new law was appropriately followed by a realistic view of policing in practice by
David Jamieson
, Police & Crime Commissioner for West Midlands Police and former Parliamentary Under-Secretary in the Department for Transport. David was honest about the challenges facing the police in times of austerity and that it is not possible to deliver the same levels of service as before on reduced funding and resource levels. This presents difficulties for the enforcement of the new drug drive and other traffic laws.
The drink-drive session provided an opportunity for an update from Scotland on the introduction of a
lower limit
in December 2014. Whilst it is still early days in the enforcement of the new lower limit, it was interesting to see the process that Scotland went through to make the change, including an awareness campaign on both sides of the border. What was compelling, though, was the use of
evidence
to justify the reduction, where drivers with a blood alcohol concentration (BAC) between 50mg/100ml and 80mg/100ml are at least 6 times more likely to be killed in a crash than those with zero alcohol whilst those with between 20mpg/100ml and 50mg/100ml are three times as likely to be killed in a crash. This is obviously evidence recognised elsewhere in Europe and hopefully it will be looked at more closely by the rest of the UK soon.
An extremely interesting
study
by
Heather Ward
from UCL highlighted that the majority of research into drink-driving has been gender-blind and hardly any studies distinguished between men and women. Heather talked through changes in drinking habits and how affluent, professional women are drinking more in terms of frequency and quantity and that whilst the number of drink-drive convictions for both men and women has decreased, the proportion of females convicted has risen. This presents a challenge for practitioners and policymakers alike in how to address the issue of women and drink-driving. Turning to distraction, Professor Andrew Parkes from TRL talked delegates through a number of studies, spanning many years, which have explored the effects of distraction through mobile phone use. He showed the increased risk of both hands-free and hand-held phone use and the detrimental effect phone use has on various driving tasks. The growing concern is the negative consequences of smartphone use and the introduction of new technologies – one
study
from Virginia Tech Transportation Institute (VTTI) found that there was a 23 times increased risk of crashing when texting and driving and the upturn in social media activity will generate similar outcomes. New devices such as the
Google Watch
and
iWatch
don't bear thinking about from a road safety perspective! (But, of course, we must and we need to start planning now how to deal with increased distractions as manufacturers continue to design vehicles as more social spaces).
The conference tour has given me lots to think about, giving me opportunities to refine and improve what we do (and as an academic at heart, new research and theories to digest are one of the many things I love about my work!). On the other hand, there are a great many challenges to face, in terms of encouraging joint working, translating theory into practice and coping with the changing face of the road safety world (sculpted by a range of influences such as austerity and technological innovations). We're hoping that our own conferences will be helping practitioners understand some of these opportunities and challenges…..