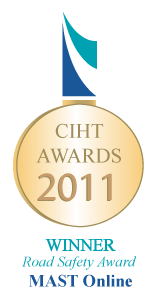 MAST Online Wins at Prestigious Awards
June 15, 2011

A Unified Call for Action
July 11, 2011
More Data, More Often
Bruce Walton, RSA's Technical Director and the MAST Project Manager, announces some important improvements in the pipeline for MAST. Among other things, his blog addresses MAST members' requirements for more timely publication of data, greater geographical detail, additional driver insight and progress on crash rates and contributory factors.
Over the last two years, MAST Online has provided Britain's road safety profession with unprecedented levels of access to national data, enabling analysis and profiling to levels of quality and insight we would scarcely have thought possible before. You wouldn't think such an important and widely acknowledged achievement could possibly come with a down side, but in a strange way it does. I'm reminded of what happened after I surprised my children with a present of the latest video game featuring their favourite characters: it gave them many happy hours of play, but also left them insisting "Now you've got to give us the next one in the series, Daddy!"
The MAST concept has almost limitless potential as a basis for planning intelligence led interventions – so much, in fact that it's hard to know which way to turn first. In this blog, I'll discuss how we are going to move MAST forward over the next few months, driven as ever by the priorities of our members. Each heading below features a common request, followed by an outline of our plans for meeting it. I can only hope these responses leave you feeling more satisfied than my kids were, when I told them they had to "wait and see what comes along at Christmas."
"We need the latest data more quickly - sometimes it's over a year out of date"
We agree. Until now, national data release has always been predicated on the publication schedule of RCGB, which doesn't come along until the September after each year end. However, having discussed this matter with colleagues in the Department for Transport we now foresee two important developments. Firstly, we expect the full national data set to be released on Road Casualties Online as soon as processing is complete, rather than waiting for RCGB. This will enable us to update MAST with 2010 data by 15 August, about six weeks earlier than was possible before.
Secondly, we hope to provide an
interim update covering the first six months of 2011
alongside release of DfT's second quarterly estimates this December. This update would be shown separately from validated annual data and may not have every single dimension fully populated, but it will be an important step in the direction of satisfying widespread demand for faster information more fitting to the age of the internet.
By the way, if you would like to see your data even more quickly than this, here are two suggestions for how you could take it forward. Firstly, you could approach us to discuss the possibility of a MAST Local Data Portal covering your area. Secondly, encourage your local police force to adopt the Crash reporting back end, which is the best way to move towards a live national dataset.
"We need to see more detail on the location of crashes"
This request has come along in several guises. For those who want a sharper focus on neighbourhood risk, I can bring you some very good news here and now. MAST will release Crash Location at Small Area level along with the 2010 data this August. By the way, "Small Area" is our generic term embracing both super output areas in England and Wales and data zones in Scotland.
For those wishing to perform route analysis, a reminder that MAST already enables you to do this. If you haven't yet checked out the Filter by Road Number feature and the Crash Strategic Road Location dimension – why not?
For those who want more information about mapping with MAST data, we will not keep you waiting too long. We have been working feverishly on investigating mapping solutions to enhance MAST, and good things will come to those who wait. Just don't forget to put out the hot chocolate and cookies by the fireplace before you go to bed!
For those not satisfied by any of the above - for instance, if you are being asked to provide detailed analysis at ward or junction level - you may find that a MAST Local Data Portal is the best solution to your needs. If you would like to discuss this further, please get in touch.
"I wish we knew more about what these drivers are really like … "
Now you will. I can announce that as from this summer MAST will include several important new dimensions, providing yet more unparalleled intelligence into drivers involved in crashes. These will include among others Driver Index of Multiple Deprivation, Vehicle Age and Vehicle Engine Size. For good measure, we'll include Casualty Index of Multiple Deprivation too. This is not something we will stand still on either, as we are looking to expand this still further in future years. We hear those of you who want to see Vehicle Colour, Driver Years Licensed and so on, and you can rest assured we're working on it.
However, there are one or two things we can't do. Many of you want information based on driver breath tests or drivers without insurance, but theses cannot be released for data protection reasons. There are some other things which are not recorded with sufficient consistency to be released at national level. However, if you know that your local data contains (say) driver crash history or corporate vehicle ownership and you would like to include this in MAST-style analysis, then again a MAST Local Data Portal would be your best way forward.
"OK I know the numbers - but I need to know the rates."
Expressing results as rates is very much the flavour of the month in road safety at the moment, what with the publication of Outcome Indicators in the Strategic Framework. Rates by distance travelled and by population are going to become an indispensable tool in future, and here at RSA we're very much in the vanguard of this move. Of course MAST has already made MOSAIC Indexing a commonplace tool for many road safety professionals, and our ground breaking Child Resident Casualty Risk report last year attracted a great deal of interest.
Many of you want to see MAST reports indexed by population age and gender, which would not only greatly enhance MAST's existing Mosaic profiles but would also be hugely valuable in setting other MAST reports into valuable context. This is not quite as straightforward as it sounds, demanding both reliable and consistent source data and significant development investment. However we recognise that there is huge road safety value in providing our members with this facility, so I can confirm that we definitely aim to integrate population, age and traffic indexing into MAST over the next year. I expect that this functionality to be integrated into MAST gradually, but I intend to have the first instalment ready for release before Christmas - in time for you to tell us that we got it wrong at next year's user conference!
Oh, and about those Key Outcome Indicators in the Strategic Framework: we will make sure that our members have easy access to authoritative information on where their performance stands. RSA will be leading the way on calculating and assessing the KOIs, thus helping you to stay ahead of the game.
"I want to know why these crashes happened!"
Doesn't everyone! Again, this issue has several different facets which I will discuss separately.
One thing we can and will do to assist analysis in the meantime is provide more of our "Crash Involved …" dimensions, which have proved extremely popular. I'm pleased to announce that the following member requests will be included in MAST when the 2010 data is released this summer:
* Crash Involved Foreign Registered Vehicle
* Crash Involved Journey for Work
* Crash Involved Young Driver

We will continue to keep this area of development under review, so if you have additional comments or suggestions then please post them on the MAST User Forum. We're very grateful for all the suggestions for new report templates in the survey, and we will be releasing some new templates based on your suggestions later in the year. By the way, don't forget that you can also use our "Casualty … Related" fields to good effect. There are some good ones already there, including Journey Purpose of Related Driver and Manoeuvre of Related Vehicle. Again, if you have suggestions for any additions then please share them with us on the forum.

Now on to the continuing debate about our old friends the Contributory Factors. In our recent user survey we canvassed your opinions on whether and how they should be released, something which those of you who have worked in collision analysis will know is far from straightforward. 89% of you agreed that they should be made available in some form, and the most popular approach was that "CF data should be shown in more detailed groups devised by MAST, for example 'Driver Injudicious due to Excessive and/or Inappropriate Speed' ".

With this clear aspiration on CFs in the forefront of our minds, we discussed how to progress this with our colleagues in DfT. They kindly supplied us with a sample CF dataset for analysis, and we in turn provided them with a sample of how this data would look if published in MAST. We are hopeful that once everyone has had a chance to consider the outcome of this confidential trial, we will receive the go-ahead to publish additional dimensions based on CFs in the foreseeable future. In the meantime, if you happen to bump into anyone from DfT at an event, don't forget to mention it …

Finally, there is one thing which some people might like but we will not release on a national basis. A number of police forces tend to record the vehicle considered by the attending officer to have precipitated a crash as 'Vehicle One' on the stats form, and some have used this during analysis in lieu of a formal 'Precipitating Vehicle' field. In our survey your views were divided: only 21% of you had a high degree of confidence of this connotation in your local data, and conversely 15% of you considered that vehicle numbers held no meaning whatever. In light of this widespread uncertainty, we feel it would be misleading to the point of irresponsibility to publish this information. However, if you are confident in your local data containing this or any other significance which MAST is unable to exploit, then don't forget that a Local Data Portal could be the answer to your dreams!

Well, there we go – quite a shopping list. I'm sure you will agree that MAST is continuing to respond effectively to the needs of its member base, and as ever we look forward to your views on the progress which we have made at the next User Conference. If you would like to contribute your thoughts on what MAST has done for you and where it should go next, then please get in touch with us or post on the forum.